Carpe Diem Daily - Specialmoves

Carpe Diem
Wieden + Kennedy
Brief

Carpe Diem means 'Seize the Day'. It was in that spirit that Wieden + Kennedy approached us to work with them on a novel brief from Nokia. They needed a website and mobile app designed to show off the capability of their new handsets in a subtle way and at the same time to bring a little more good into the world.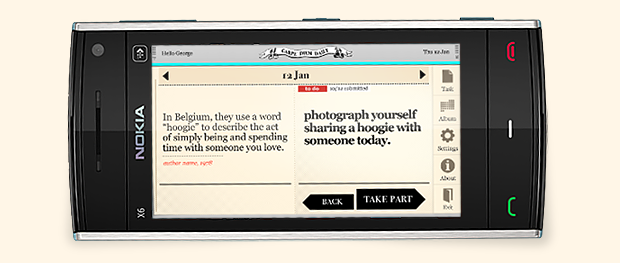 Challenge

W+K came to us for our ability to integrate mobile and web experience and to create an application that looked beautiful and worked seamlessly across a wide range of phones. This proved extremely challenging, considering that we had to support devices that hadn't even been released during development, with many different configurations of touchscreen, keyboards and screen sizes.

On the backend was a content conversion system allowing any video to be uploaded, automatically converted and pushed out to handsets. We also worked hard to allow the application to update automatically, critical for a campaign that runs for a year and that needs to respond to how people use it. As with everything we do, it was key to make the application slick and completely effortless to use.

Solution

The result was Carpe Diem Daily; a unique collaboration with the School of Life, designed to fire up the imagination and learn a bit more about yourself and the world around you. Every day for a year users were challenged to perform a simple task with their friends or in their community, then share the story of what they did in words, photographs or by video. The stories were published on the site for everyone to see.

Results

The app received very positive reviews from the Guardian and CNET and in its first few weeks had already been downloaded nearly 20,000 times.