London to Brighton Bike Ride - Specialmoves

London to Brighton
Bike Ride
Biking Madness
Anyone who knows anything about Specialmoves will tell you that we have near-superhuman capabilities. So it just made sense that the entire office would take part in the 2011 London to Brighton bike ride in aid of the British Heart Foundation.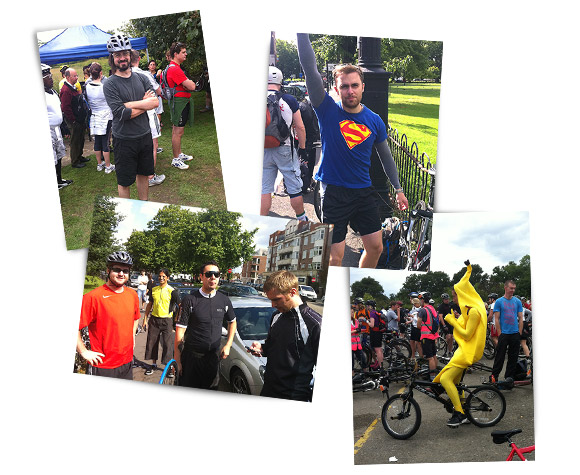 As near-superhumans, however, we weren't content with just getting on our bikes and raising money. True to form, we hatched a plan to apply technology creatively to our group ride. It had become clear that some of us were shyer about showing off their Olympian athletic prowess than others, and we'd be cycling at lots of different paces. So how could we make sure we all ended up in the same pub at the end of the day, and that no one was left in a ditch on the outskirts of Crawley?
Rik, one of our bright developers, had a neat idea to create a mobile app that would track all our locations throughout the day of our epic journey, and display them on a map. The app would fire users' geo-location coordinates back to a central server that would then store the coordinates in a database. Keeping a track of all current online users, the server would then send their coordinates back to the app that, in turn, would update a map pinpointing everyone's location. Then he built it.
Assembling at 9am on Clapham Common, team Specialmoves battled through driving rain, up and over mammoth hills, weaving in and out of tandem riding superheroes, and finally squaring off against the leviathan Ditchling Beacon. With the aid of countless sugary drinks, thoroughly padded cycling shorts and our useful little app, eventually made it to Brighton for a beer, a pat on the back and £1,725 for our good cause.